TO VISIT MONTAUK, YOU MUST TRAVEL THE AMERICAN EAST COAST OR VISIT THE SHOWROOM OF THE MANUFACTURER OF THE SAME NAME IN NEW YORK, TORONTO, CHICAGO, CALGARY, VANCOUVER, OR MONTRÉAL – THE BIRTHPLACE OF THIS DYNAMIC UPHOLSTERED FURNITURE MANUFACTURER.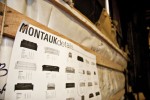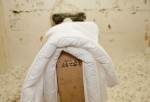 Tim Zyto's father owned Biltmore Chesterfield who went bankrupt in 1989 during a serious economic crisis in Québec. A young Tim, who studied sociology at Concordia, was studying business administration at McGill when his father died. He quit school and decided to get into business. He opened the Biltmore company on Boulevard St-Laurent with a partner, but due to different visions, the partners separated, prompting Tim to open Montauk.
It was 1995 when the young entrepreneur created this upholstered furniture company from nothing. He teamed up with Danny Chartier who became, and remains to this day, his right hand man. Zyto considers his company a team including the factory foreman, the showroom representatives, and some thirty-odd workers who oversee the manufacturing process at the factory in St-Henri, Montréal.
At first, they offered a sofa style which was fashionable in the States: a version inspired by the popular English chesterfields with big round armrests. Zyto wanted to do something different – something unique. He wanted his furniture to reflect the subtle elegance of the posh residences of Montauk, in Long Island, close to New York City. He wanted people to like his chairs for their look and for their comfort as well. There would be no compromising on quality. "More wood, more metal, more feathers," he confirms.
The furniture frames at Montauk are made of solid wood, covered with springs which are held in place by eight-strand flax rope (the highest standard in the industry), all covered by latex and feather cushions. The depth of the couch is generous, the cushions offer good support, allowing you to sit comfortably and straight, unless of course you feel like slouching. All (or almost all) of their furniture is available as sofas, loveseats, or chairs. The chair doesn't cost much less since it requires as much in raw materials and assembly time as the other formats do. You can also request modifications to personalize a selected model, but this can be a delicate operation – they won't deconstruct a piece unless it's worth it from every viewpoint. Chairs are sold for a base price which varies depending on the fabric selected. You can choose from Montauk's 80 fabric choices, or supply your own.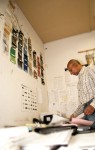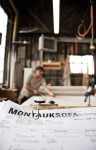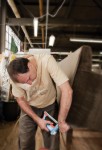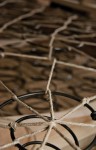 Over time, Zyto says, they have come full circle in terms of the styles they offer. The model from the end of the twentieth century (we're talking 1995) was conservative, often with a slipcover – the Montauk style. They refined their lines, created some curves, and came up with a more contemporary look. Today they have returned to a mix of the two approaches. During the design process, Zyto and Chartier exchange ideas, opinions, and moods; their different approaches result in a wonderful synergy and great results for consumers. Zyto suggests that their designs take them one step back to the past and another towards the future. It's a great way to create timeless pieces.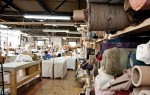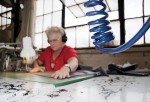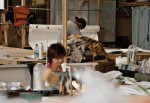 Montauk distinguishes themselves from their competitors by selling their own furniture in their own showrooms and on internet. If product materials are expensive, (quality isn't cheap), at least the final price hasn't been jacked up by a lot of intermediaries. In the end, the price is reasonable, and direct sales take place under optimal conditions: seats can be tested and pieces can be seen beside other furniture that Montauk makes or imports, like coffee tables made from Italian antique wood.
Montauk started in Montréal and has spread across Canada (Toronto, Calgary, Vancouver) and the U.S. (New York, Chicago). Zyto probably won't stop there because there will always be someone somewhere interested in a top quality product – especially if it promises comfort after a long hard day.
by Pierre Deschenes for Mixte Magasine
photos: Paul-André Larocque